ENGAGEMENT PHOTOGRAPHY PORTFOLIO
How do you capture the moment when a marriage proposal is made at a romantic restaurant or inside of a magical place that exudes romance.
The answer is you do not capture it.
It is rare for an engagement to become captured on film. Maybe the head waiter slipped the ring into your loved one's champagne glass or the jumbo screen at the ballpark flashed "Will you marry me" for tens of thousands of fans to see.
Well, unless the message on the jumbo screen lasted a long time or the head waiter brought along a digital camera with the champagne, you cannot expect to capture the surprise moment.
However, you should consider an engagement photography session for several reasons.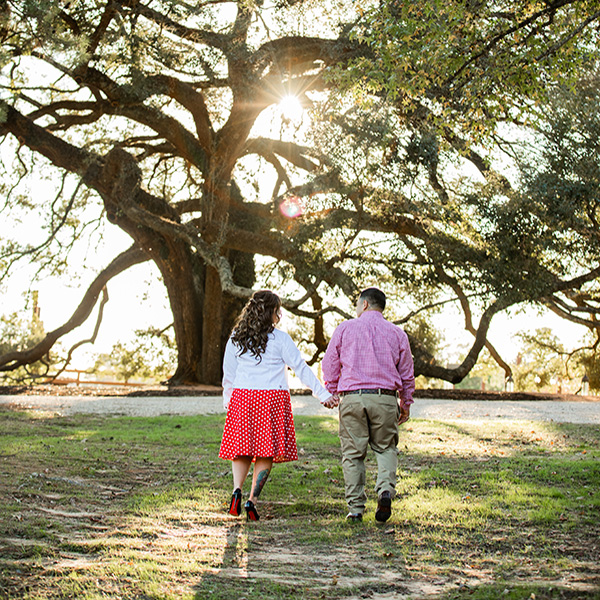 Why Engagement Photography is Important
Whether you are camera shy or you believe engagement photography is just an optional event, we want to convince you to consider booking a photo session with Cabrera Photography for several reasons.
Lose Your Shyness
As we will see later, an engagement photography session is like spring training for baseball players. You will have an opportunity to get comfortable in front of a camera for an extended period. Let's face it: There will be countless photo shots at the wedding, so why not learn how to become comfortable in front of a camera now, instead of plotting how to avoid the flashes on your wedding day.
Build Rapport with the Photographer
Look at engagement photography as the dress rehearsal for the wedding photographer. It gives you plenty of time to get to know the photographer, which will make a huge difference in how well your wedding photos turn out. An engagement photography session that lasts around an hour or so will give you enough time to build the rapport you will need to interact with the photographer at your wedding. Different photographers bring different styles and techniques to the table. Make sure you find the right photographer that matches the style and technique you want.
Reconnect with the Special Moment
Just because the headwaiter did not capture the marriage proposal on film does not mean you cannot go back to your favorite moment to relive the most important event of your life. An engagement photography session also allows you and your soon to be spouse to reconnect with your favorite place. You can return to your hometown, hang out at your favorite museum, or spend time at the college you both attended.
Confidence and Relaxation
Like most people, you are not accustomed to having a professional photographer takes shots of you in public. If you have the camera jitters, a professional photographer who specializes in taking wedding and engagement shots will help you relax and just as importantly, gain the confidence you need to direct the photographer to take the type of shots you want him or her to take.
Finally, booking an engagement photography session will give you plenty of photos to display before the big day arrives. You can send family members photos of the engagement shoot as gifts, as well as upload photos to social media pages to interact with friends.
Contact Cabrera Photography
Engagement photography gives you the time needed to make the decision on which company to hire for photos taken on your wedding day. When you work with one of the highly rated engagement photographers of Cabrera Photography, you will be able to interact with a true professional who has your best interests in mind when taking every shot. Cabrera Photography covers the entire Houston region from Katy to Conroe, Texas.
Reach out to one of our experienced engagement photographers today by contacting us via our website or by calling our office at (936) 718-6623.
Are you interested in hiring our services? Would you like more information about our packages or promotions? Don´t be shy! Send us a message, we will be more than happy to address all your questions
---
900 W Davis St, Suite 103 Conroe, TX 77301
[contact-form-7 id="1391″]
Sign-Up For News Updates and Alerts